DANGERS OF MOLD AND HOW MOLD REMEDIATION CAN ELIMINATE THOSE DANGERS
There are many who are not aware of what mold is. Mold is a type of fungus. It is normally displayed in an array of colors such as blue and greens. Normally mold grows in areas where there is a high abundance of moisture that cannot be controlled.
Mold can grow on almost anything including wood, food, plants, walls, and ceilings. Mold reproduces by releasing a large population of spores. The spores can withstand extreme temperatures and are very enduring.
Dealing with mold can be tough because when breathed in or direct contact with it can cause health complications. This is why there are masks and remediation kits designed to deal with mold problems and reduce the threat of health complications.
Studies have shown that even people who are healthy can become affected by mold. One of the most common problems with mold exposure is allergic reactions. Other problems have been linked to the following:
Respiratory
Asthma
Respiratory system failure
Remediation is the clean up and the elimination of mold. Mold is toxic and should be removed whenever it is observed no matter if it is in the home, outside of the home, or in a business. There are professional mold removal specialists that can help.
Mold is developed in areas where there is moisture present. The most common areas for mold are the bathroom, basement, and kitchen as these are areas that deal with water. Mold has been known to grow within 24-48 hours of the moisture buildup.
There are many different types of mold found in homes. In fact, there are more than 100 different kinds of mold. Some of the most common types of mold found in homes are:
Alternaria
Botrytis
Penicillium
Stachybotrys Chartarum
If there is confusion about the type of mold growing in the home, there are mold inspections that can be done by professionals. Inspectors know what to look for and where. There are plenty of reasons to be concerned about the type of mold that's growing in the home. These and many others are benefits of a mold inspection:
Eliminates smell of mold in home
Rids walls and ceiling of bacteria
Peace of mind
Detects leakage problems
A mold inspection comes in two stages; the first one is the collection of samples. The second one is to determine the species of mold. This will give the experts an idea about the toxicity level of the mold and how to effectively remove it.
Remediation is done on a professional level. Mold needs to be removed through special equipment. Most people think that using chemicals on it will eliminate it, but bleach and other cleaners will not kill off the mold or prevent it from growing.
Mold removal can be done in the areas where it is seen and also in nearby areas. Mold grows very fast therefore spreading quickly. Once mold spores have gotten into the air, they are normally spreads throughout from the HVAC system.
When mold has developed inside of the ductwork to a HVAC system, there is professional ductwork cleaning services available to take on all sorts of mold colonies. Professionals are highly recommended at this level of remediation.
Mold remediation experts usually take advantage of state of the art equipment using high velocity air scrubbers. This helps to remove the mold out of the air. Also, special heap vacuums are used to catch small and large spores.
Black mold is the deadliest form of mold there is. It is unhealthy for all age groups to be exposed to. In some cases, there are groups of people that are more sensitive to black mold as these groups of people have weaker immune systems:
Seniors
Children
Pregnant women
Mold should never be handled by someone that does not have experience around it. Direct contact with it can result in dry, red, irritated skin. It may feel like a burning sensation and medical attention may be needed.
Over half of the homes in the United States have mold problems. Inspections along with remediation specialists should be taken advantage of in these situations. Mold remediation can prevent health problems and creates a healthier living environment for all to enjoy.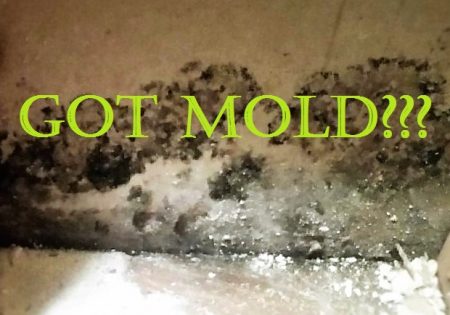 4 Signs That You Need Mold Remediation
Mold may be present in your home and affecting your life even if no actual mold is visible. Here are four things that may indicate you need mold remediation.
The general rule is that when mold is visible, it is time to kill it and remove it. But mold isn't always visible and so there are other criteria to strongly consider when it comes to mold remediation. Here are the four criteria to look for mold in your home.
A water event or occasional/frequent water intrusion
Has there been recent water intrusion? Water does not necessarily equal mold growth as spores have to already be present. But since mold spores are microscopic (2-10 microns), a water event is usually the trigger that causes mold to be seen or otherwise detected.
Note: Mold means moisture or humidity is, or has been present. Water does not necessarily mean mold growth is present.
Discoloration
Most molds cause the organic material the mold is consuming to change colors. Whether the food source for the mold is human food or drywall paper, if colonization is allowed for enough time, there will usually be a discoloration that will reveal a mold problem.
Most molds, when allowed to grow in abundance, are visibly seen in certain colors. Mold is not only black. Many species are visible in gray, white, brown, red and even some hues of pastel colors. Some molds look like dust, or fuzz, while others look like sand granules. Certain molds thrive on certain food sources, and they all require different moisture content or relative humidity in the ambient air.
Note: Water seeping through masonry sometimes causes a white crystalline, powder-like discoloration called "efflorescence". This substance is made up of minerals and should not be confused with mold.
A musty odor
Is there a musty odor that prevails, or come and goes? Some molds are odorous when colonizing. Although some species do not cause odors, when a musty, moldy odor is combined with other criteria, one can conclude that mold is present. Even if mold is not visible, remediation may be necessary.
Note: Some individuals have a great sense of smell. Others may think that they do. Odor alone should not be the only criterion used to determine whether remediation is necessary. Some actively colonizing fungal species give off odors. Dead or dormant spores generally do not, but are just as detrimental to human health. Absence of odor does not mean that there is no mold and odor does not mean that it is caused from fungal growth. Do not rely solely on scent for detection.
Adverse human health effects
A good indication that there is "unacceptable fungal ecology" within a building envelope is that occupants feel health symptoms when spending extended periods of time in a certain space and feel much better when spending extended periods of time outside that space. If residents in a home or employees in a workplace experience congestion, allergy symptoms, headaches, fatigue or respiratory problems after each night's sleep or after the end of each work day, this may be an indication of unhealthy air quality.
One environmental hazard to cause unhealthy air quality is a mold infestation. If one spends a week on vacation away from work and home and all symptoms disappear, perhaps the home, school or workplace has unacceptable fungal ecology or unhealthy indoor air quality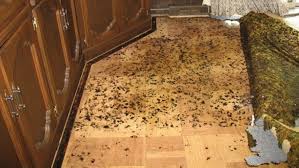 What is performed with a Mold Remediation Protocol?
Interview – Review and discussion with an authorized representative of the Property of current conditions which has led to the claim.
Site Assessment – A physical site assessment of the Property in the area(s) of concern to: visually assess the damage(s), retrieve temperature and RH readings, take air and direct samples for mold (if applicable), and gather room dimension to create room/floor drawings to identify the location(s) of concern.
Air Sampling – The purpose of non-viable spore trap air sampling is to provide an approximation of the airborne microbial (fungal) spore concentrations. A minimum of one control sample is typically taken outside the most common used entrance into the building, then one or more air samples are collected in the areas of concern within the building. Elevated airborne spore concentrations may indicate an indoor microbial reservoir(s), or that cleaning of personal effects or the HVAC system(s), is a necessary component of a microbial remediation plan.
Direct sampling – The purpose of direct sampling is to identify the type and concentration of microbial spores present on affected materials identified with suspect visible microbial growth. The sampling results are also used for reference for source contamination when air samples are taken.
Non-Scope Items – include visual identification and records review for:
Asbestos Containing Building Materials (ACM)
Lead-Based Paint
Fire Reduction Chemicals
Qualifications: No federal guidelines exist at this time. However, some States have placed requirements for licensed Mold Assessors and Mold Remediators. For those States that do not have specific requirements, it is recommended that you use a person who:
Has taken a minimum of 24 hours of mold assessment and remediation courses,
Follows one of more of the recognized industry guidance and practices, and
Acquires, at a minimum, 8 Continuing Educational Units (CEUs) bi-annually.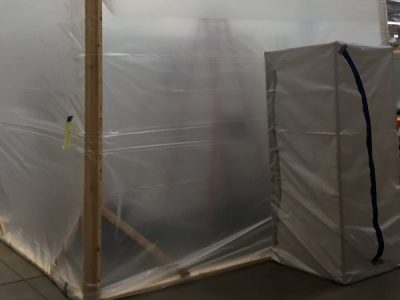 What Happens During Mold Remediation
No one likes surprises when having any kind of work done in one's home. It is a disruptive situation no matter what the project. In the case of mold remediation, you are going to have strangers in your home in "other worldly" outfits using serious chemicals. You will feel much less stressed if you know just what the mold remediation company's MO is.
Firstly, you have a few things to do before the remediation crew arrives:
Fix the water problem that caused the mold. Mold remediation is an involved and costly process. You don't want to have to do it all over again.
Clear a path for the crew to move easily from the outside to the mold area and back. For instance, remove cars from the driveway and garage.
Keep pets out of the way—in a room with the door closed, in the yard if the crew won't be working there.
The mold remediation company parks the truck as close to the house as possible, lays plastic sheeting down and runs hoses from the doorway to the mold area (unless they can access the mold area from outside of the home, such as in the case of a crawlspace).
The mold remediation workers suit up: head-to-toe white suits, booties, respirators and goggles. They do this on every job, toxic mold or non-toxic. They then spray the mold area with an EPA-approved biocide (mold killer). The workers leave while the biocide does its thing.
The next day, the mold remediation crew returns, puts down plastic and suits up. They then spray the mold area with an encapsulant, a type of paint or whitewash that encloses (as if in a capsule) any mold spores that remain. They should spray well beyond the treated area to eliminate any chance of mold growth. For example, the whole attic should be sprayed even if the mold is confined to one spot. Tip: Confirm that the company's procedure includes this before you sign the contract.
Next, the crews cleans the air with an HEPA (High Efficiency Particular Air) air scrubber and an air exchange that replaces moldy air with clean, fresh air. The final step is using an HEPA vacuum to clean the floor or any surface that can be vacuumed to remove stubborn spores that linger.
Mold remediation usually includes disposal of moldy porous building materials (drywall, insulation, etc.) and cleaning and disinfecting carpet and personal items if they can be saved.
Have a post-remediation inspection done to ensure that the remediation was performed properly. The company that did your initial mold inspection and testing can take care of that.
How to Keep Mold from Coming Back
Fortunately for homeowners who've recently undergone mold remediation, there are preventive measures that you can take to help keep mold from growing back. Here are some proactive steps that you can take to keep mold away for good:
Identify areas where there's a moisture problem, and correct it. Basements and other areas prone to moist air can benefit immensely from the presence of a dehumidifier. For low-lying areas, sump pumps provide an additional line of protection by removing excess water automatically. Take note of any moisture you notice in your home. This can include dark spots on ceilings that indicate a leaky roof, or musty smells inside a closet. Fixing water leaks and replacing decaying wood can go a long way toward keeping your home free of unwanted fungi.
Dry wet areas as soon as possible. If water gets into your home, remove it as soon as possible. For example, if you have water in your basement from a burst plumbing pipe or a heavy rainstorm, dry out the area immediately, before there's time for mold to take root. Even seemingly mundane things, like leaving wet clothes in the washer for a few days, can be an invitation for mold.
Keep out moisture with proper ventilation. Appliances that produce moisture, like clothes dryers and stoves, should vent outside. You should check your AC unit periodically to make sure it's not generating moisture. If it's leaking, dripping, or the coils are covered in condensate, you probably need to call an HVAC repair service.
Use mold-resistant building materials whenever possible. This may not be possible in already existing homes, but if you're remodeling, building an addition, or building a custom home, it's a good way to stay one step ahead of mold. There are newer varieties of drywall and Sheetrock that are paperless– instead of gypsum covered with paper, they use fiberglass instead. This creates a highly water-resistant surface, and mold cannot break down and metabolize it. This is especially useful in bathrooms, kitchens, laundry rooms, and other areas where moisture is pretty much a given.
Keep your indoor humidity between 30 and 60 percent. If your home is humid, and you notice a lot of water condensing near windows and pipes, consider using dehumidifiers.