Give your house a fresh, updated look with exterior paint.
Materials Needed:
exterior flat or eggshell paint
exterior semigloss paint
pressure washer
paint sprayer
paintbrush
painter's tape
drop cloths
ladder
paint scraper
stain-blocking primer
epoxy filler
medium-grit sanding block
spackle knife
exterior caulk
caulk gun
plastic sheeting
Step 1: Pressure-Wash Walls
To ensure best coverage, remove dirt and dust buildup from house using a pressure washer. TIP: Work your way from top to bottom of house in a smooth, controlled manner, overlapping each stroke by 8 inches.
Step 2: Repair Damaged Surfaces
Walk around entire perimeter of house taking note of damaged surfaces such as: wood, masonry, metal, siding or stucco. Apply epoxy filler to cracks or holes using spackle knife. Once dry, lightly sand using medium-grit sanding block.
Step 3: Remove Loose Paint
Once exterior is dry, walk around perimeter of house taking note of any loose or chipped paint. Place drop cloths along ground, then remove chipped and loose paint using paint scraper or medium-grit sanding block.
Step 4: Caulk Trim
Fill any gaps between house and trim around doors and windows using exterior caulk and caulk gun. If house has mixed materials such as siding and brick, add caulk along surface where different materials meet.
Step 5: Prime Stains
Examine exterior for any stains or visible wood knots. Apply one coat of stain-blocking primer to area using paintbrush.
Step 6: Protect Doors, Windows and Lights
Cover doors, windows and lighting fixtures using plastic sheeting and painter's tape.
Step 7: Paint Exterior
Load flat or eggshell exterior paint color into paint sprayer. Depending on intensity of hue, apply one or two coats of flat or eggshell exterior paint to entire house. Be sure to work your way from top to bottom in a smooth, controlled manner, overlapping each stroke by 8 inches. TIP: When changing exterior color from light to dark or dark to light, start with a coat of primer to ensure proper coverage. Primer is not necessary when a fresh coat of existing color is being applied.
Step 8: Paint Trim and Doors
Remove plastic sheeting from doors, windows and lighting fixtures. Add two coats of exterior semigloss paint color to woodwork and doors using paintbrush. Remove drop cloths.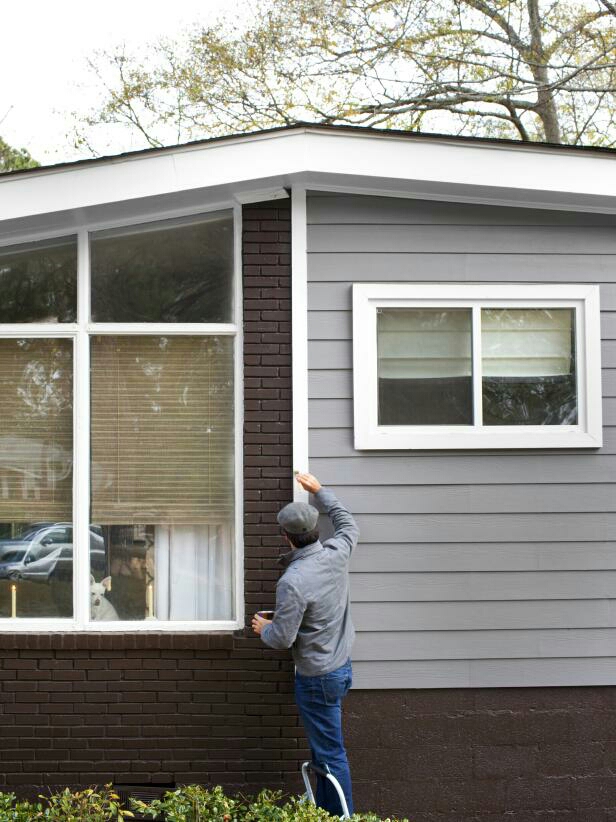 10 Things You Must Know When Painting a House Exterior
From choosing the right paint to prepping your home's exterior, we've got the best tips to make exterior painting a breeze.
Consider Mother Nature
Plan ahead when painting. The time of year is key, so understand your local weather patterns. Select a dry time of year when there is little rain and lower humidity. Paint needs time to dry and will not adhere to surfaces that are not dry.
Quality Over Price
Better quality paint means you will paint fewer times over the years, and you'll get better coverage when you do paint. Paint technology has improved dramatically in the past few years, with colors guaranteed to last longer than ever before. You may be tempted to skimp on paint to save money up front with a cheaper brand, but you're bound to have trouble and eventually pay more in the long run.
Sand and Wash
Paint won't adhere very well to dirty or rough surfaces, so be sure to clean the siding and trim thoroughly, allow to dry, and sand. Be sure to sand (or scrape as needed) any peeling paint to create a solid surface for the paint to adhere.
Paint Doesn't Stick to Rotten Siding
Rotten wood and siding material are nearly worthless to paint, as they will do nothing but to continue to deteriorate. You have a couple of options. Replace the siding or wood trim with new components, or in the case of small areas, use a wood hardener and match with an exterior filler product, such as a wood filler. Be sure to prep and sand either one prior to painting.
Use Primer
The rule of thumb has always been to apply a good coat of primer, sand, then apply your color coats. This is still a good rule to follow, but new paint technologies have combined primer and paint into one product, which manufacturers assert will cut down on the number of coats you will have to apply. This newer paint is more expensive, but may be comparable to the purchase of separate primer and paint. Look at reviews of these newer paints, particular from folks that have used it in your area.
Combine Cans of Paint
Mixing multiple cans of the same color of paint into a larger container, such as a five-gallon bucket, will help ensure a uniform color is applied to your home's exterior. This step, called boxing the paint, is a method the pros follow. This step is important if, for example, you initially bought a gallon or two of paint less than you needed and then picked up the extra gallons at a later time.
Paint From Top to Bottom
Starting at the top and working your way down while painting helps control streaks, as you will be working with gravity rather than against it. Drips are inevitable, but this method will allow you to feather out mishaps in the direction you are working.
Seal It Off
Properly close your paint containers with their lids after you finish for the day to keep the paint from drying out. Use a rubber mallet to lightly hammer the lid shut. You can also add a plastic wrap film over the opening to ensure a tight seal.
Add Grit
Painted porches (particularly steps) and other painted floors can become a bit too slick with a coat of paint alone, so add a little bit of fine sand to the paint to add traction. You can use play sand or additives that manufacturers have begun producing to provide this extra texture.
Prep The Landscape
It's easy to forget how messy painting can be, so be sure to cover the ground, bushes and any other vegetation below the area you are painting. Also move or cover up any outdoor furniture, hoses, grills, etc. Use drop cloths and weigh them down on the corners or securely wrap them around the items you are protecting.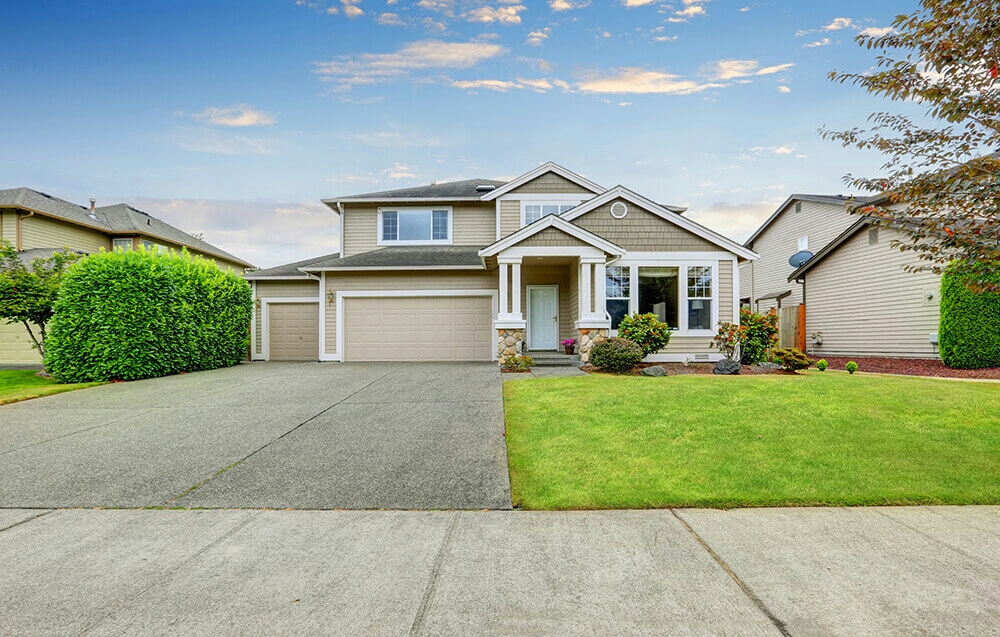 10 Inspiring Exterior House Paint Color Ideas
From clean whites and pleasing neutrals to cool blues and vibrant reds, exterior paint colors are your home's calling card to the world. Calibrate the color right and you'll have a house exterior that welcomes visitors when they roll up to your home. More importantly, the right exterior color will give you joy every time you return home, for years to come.
01.Waterfront Blues
A Twin Cities builder of high-end properties, Hendel Homes chose a spot-on perfect blue for the exterior of this waterfront cottage. The combination of blue and white offers a lively yet traditional look.
02.Desert Oasis
Like an artist coordinating all elements of a painting, a house color consultant draws in many aspects of a home before choosing the final colors. Designer and color consultant Kimberly Laten, from Color Design LLC, expertly gauged the tan intensity of this Arizona home's stucco exterior based on many factors, including the dazzling blue desert sky and white clouds, lush green lawn, and earthy olive-green succulents.
03.Farmhouse Charm
If your dream is a white farmhouse-style home, follow the lead of Wendy Durnwald of the lifestyle blog, Life on the Shady Grove. For her "pretend farmhouse," as she puts it, Wendy sought out an elegant white that would steer clear of sterile and dull. After all, for an active property filled with five children and many sheep, things are not boring at all. She chose a soft, warm, and rich white exterior paint color: Sherwin-Williams Roman Column.
04.Beautified Brick
When home blogger Traci and husband Cy were tasked with the job of reviving a home exterior in Nashville, they knew the first order of business was to brighten up the brick. They began with the Sherwin-Williams color Balanced Beige (SW7037) and had a local Lowe's store shade it down to a darker, friendlier beige color. The turquoise door (Sherwin-Williams Reflecting Pool) in semi-gloss plays well with the beige paint and the dark natural wood shutters.
05.Craftsman Green
When you have a gorgeous, sprawling Craftsman style home set in the woods, you'll want an exterior paint color that works with, not against, your surroundings. The green color of this sustainable home, from Asheville architects ACM Design PA, works in perfect harmony with the lush surrounding trees as well as with the manufactured stone veneer apron and crisp white trim.
06.Timeless Contrast
Without a doubt, it's a look that rarely goes wrong. When you have a traditionally styled home with plenty of trim and other details, you best serve that home aesthetically when you increase the contrast between the trim and the field color. For the broad white trim of this new-construction home, Illinois-based JB Architecture wisely shaded down the field color's gray to emphasize its difference from the white trim.
07.Tudor Bold
Tudor-style home exterior paint jobs are characterized by one thing: dark trim against a lighter field wall color. Heidi Nyline of Warline Painting, in Vancouver, British Columbia, notes that these browns and blacks are a shout-out to the Tudor's historical past when the trim was made of natural wood that had been oiled and darkened over time. What really wins the game, though, is the zesty red front door that beckons owners and visitors alike to visit this gorgeous property.
08.Cottage Blue
Can you balance blues, whites, and reds on a home exterior without going the full-on patriotic red, white, and blue route? Taylor Cabot, a Portland, Oregon architect, did just that with his 1923 cottage. Saying that he most decidedly "did not want the house to look like an American flag," he went with a deeper, shadier blue for the main body of the house. The red, too, was not a bright patriotic red but, like the blue, was shaded down into a darker maroon.
09.Embrace Brown
As a professional color consultant who has appeared on HGTV, Ken Roginski knows all about colors. And his advice to homeowners who avoid brown is to not be afraid of darker colors. Brightening the trim dials up the contrast with the brown paint, producing a classic effect that's very easy on the eyes much like this Florida home.
10.Red Punch
Vibrant red exterior paint graces this townhouse from Motion Space Architecture + Design bordering a wetland. This home's color ramps up the vitality with a stately brick-red that stands boldly against a backdrop of drizzly Seattle skies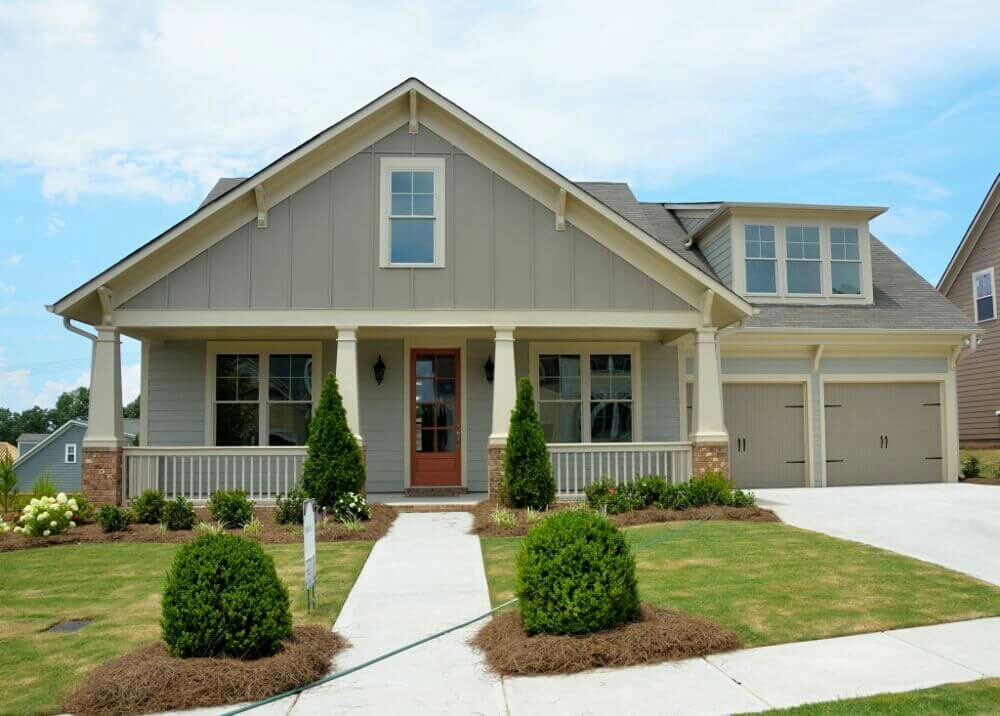 Top Exterior House Color Schemes
Gray
Trending both inside and out is gray in all shades. Depending on what you choose for your siding, it can be complemented by different accent colors. A light gray home looks great with black and white accents, making it a look that will never go out of style. While dark gray really pops with white accents on your trim and shutters, with a yellow or blue front door. This is a hot color scheme that will be in style for a long time.
Beige
If you're looking to stay neutral, beige is a great exterior home color. This can be paired with white accents along with the trim, shutters and front door for a clean look. It's a look that will never go out of style and is great if you're looking to sell your home.
However, if you'd like to add a little color to your home's exterior, red makes a great accent color for the front door, railings and more.
Brown
Dark brown is often associated with a rustic home look. It's warm and inviting, with the right colors. Against a dark brown, a tan or light brown works well as an accent neutral. For an accent hue, dark green or deep red make great choices here as well. However, stained wood front doors, railings and other exterior elements will really help complete this rustic look.
White
Some homeowners tend to shy away from white as an exterior home color because it can get dirty. However, it actually gives off a clean and elegant style for your home. Accent colors can be fun to play with here because white makes for the perfect canvas for anything to stand out. Black and white are always a combination that will go together but, have you considered a black, white and gray home?
On a white home, the color of your front door will really stand out from the rest. So, if you like to play with color, this could be the perfect color for your exterior siding.
Green
Light, sage green is the new up-and-coming color for home exteriors. If you're looking for a non-neutral but not ready to take a bold step into one of the brighter hues, this is the color for you. Paired with gray and white, it's a great color scheme to introduce to your home.
Navy Blue
Another bold color look that's becoming more popular is navy blue. Paired with a white accent and for a bit of a bolder look, a red front door, it is sure to make your home stand out in a wonderful way on your block.
Red
For homeowners who want a bold look, red is the way to go. Of course, it should be complimented by plenty of accent neutrals to even out the look. White and dark gray perfectly compliment a red home to make it warm and welcoming.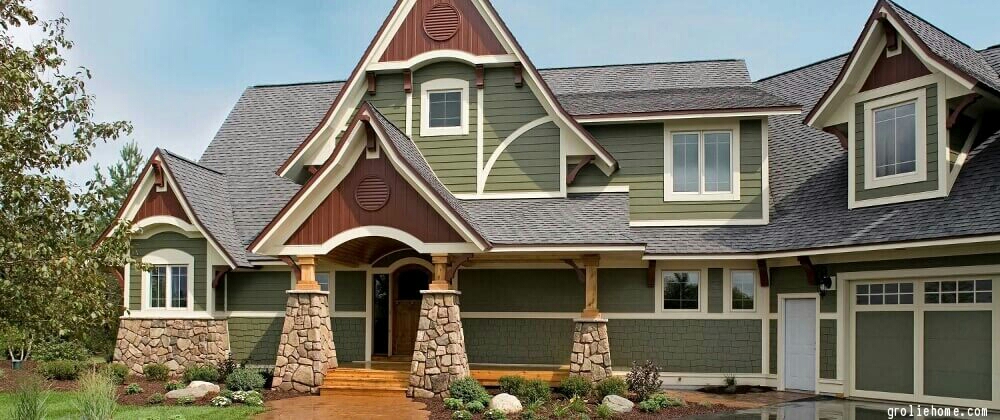 Priming Your Home's Exterior Before Painting
On most unpainted exterior surfaces, the standard procedure calls for a primer coat followed by two topcoats of paint. This procedure is also recommended for any painted surface that requires significant scraping and repairs. However, you may be topcoating only because the surface is dull or because you want a new color. If that's the case and the existing paint is sound, a single coat of "one-coat" acrylic latex paint applied properly offers adequate protection and coverage in lieu of the two topcoats.
You can apply quality latex paint over any oil- or latex-painted surface that's in good shape. If the paint is sound, you generally need to prime only scraped or repaired areas. You can also use a stain-blocking primer in lieu of regular primer to seal knots in board siding or trim and to cover stains that you can't remove, such as rust.
If you're applying latex paint over a glossy paint, play it safe and prime the entire house, even if you've sanded or treated the existing finish with a deglosser. Hardboard siding may also require a primer. As a general rule, use an alkyd primer and a latex topcoat when repainting.
Be sure that your primer is appropriate for the surface you're painting. Cedar and redwood, for example, usually require an oil-based primer to seal the surface so that tannin stains don't bleed through the topcoat. Also make sure that the primer and topcoat are compatible. How do you know? By telling your supplier what you're painting, reading the label, and (though not always necessary) using the same brand of primer and topcoat. To make it easier for a colored topcoat to cover primer, have your paint dealer tint the primer to the approximate color of the finish coat.
If you already have three or more coats of oil-based paint on the house, use oil-based house paint.