How to Get Rid of Bed Bugs
Have you discovered bed bugs in your home or have bites from bed bugs? A treatment by a professional pest control company or exterminator may not be in your budget or work with your schedule.
Luckily, it is possible to treat a bed bug infestation yourself without spending a fortune. You must be diligent and committed to the treatment process, but you can eliminate bed bugs yourself! Read our guide below for the 4-step DIY bed bug treatment process.
STEP 1: Preparing a Room for Bed Bug Treatment
Before you begin your own bed bug treatment, you will need to prepare the room or rooms where bed bugs have been found, in addition to rooms that share walls with the infested rooms. Remove any items in the room that you absolutely cannot treat or that have already been treated. Cover items that will be removed from the room in plastic bags before moving to the next room to prevent any unseen bed bug from infesting another room.
Remove any paintings or art from the walls. Be sure to thoroughly check any item that is removed from the room to prevent bed bugs from being transferred from room to room.
If you have a mattress that is heavily infested, we recommend covering it with a bed bug proof mattress cover or bed bug mattress encasement before moving. You will also need to cover your box spring with a box spring encasement.
If your mattress needs to be disposed of and replaced, be sure to cover the mattress with plastic before disposing to protect sanitation workers. Labeling a mattress or covering with "Bed Bugs" is also helpful.
Infested sheets, linens, and garments should be washed and then dried in a household dryer on high heat (over 120 degrees F), as the heat will kill bed bugs. Any garments that cannot be washed may need to be dry-cleaned or discarded as insecticides cannot be used on these materials.
If stuffed animals, books, or soft toys are infested, place those items in an air-tight bin along with vapor strips to kill the bed bugs.
STEP 2: Treat the Cracks, Crevices, Tufts, and Folds of Your Home for Bed Bugs
Some bed bug products cannot be used where others can. Also, bed bugs can build up a resistance to certain pyrethroids, making them difficult to treat. This is why using a variety of products to kill and control bed bugs will produce the best results. We recommend using one of our bed bug kits. These kits include our most powerful and effective products for a variety of applications to save you time and money.
STEP 3: Treat Your Mattress for Bed Bugs
To get rid of bed bugs in a mattress, use an aerosol spray labeled for bed bug treatment, such as Bedlam Aerosol Spray, and spray or mist the insecticide onto the mattress. Focus on the seams, tufts, and folds of the mattress and spray until the mattress is damp. Allow mattress to dry before remaking the bed with freshly laundered sheets that have been run through a dryer on high heat.
After treating a mattress or box spring for bed bugs, we recommend encasing each in a bed bug proof cover. This will prevent re-infestation and will make future inspections and treatments easier. Be sure any product that has been sprayed or applied to your mattress is dry before you cover the mattress with a bed bug proof cover. You can make the bed with your freshly laundered linens over a bed bug proof mattress cover.
After encasing, you will not need to re-treat your mattress or box spring further. If you are not encasing your mattress or box spring, you will need to reapply the aerosol spray every 7-10 days until you do not see any further bed bug activity.
You can follow the initial aerosol spray treatment with an insecticide dust. Dusts are great for hard to reach areas like the corners of mattresses and where mattresses and box springs meet. Dusts also last for several months.
Don't forget to dust your box spring as well. Remove the dust cover from the bottom of the box spring and dust in corners and crevices.
Again, we highly recommend encasing your mattress and box spring to avoid having to re-treat.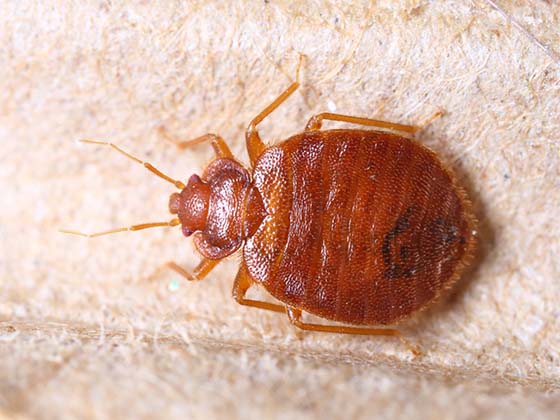 Characteristics of Bed Bugs

To continue cycles of mating and egg production, males and females must feed (consume a bloodmeal) once every 14 days. With regular feeding, a female can lay 1-3 eggs daily and 200-500 eggs in her lifetime. Should a bed bug's regular feeding be interrupted, however, it can still survive for several months on one meal.
Bed bugs are not known to travel large distances on their own. However, they will attach themselves to movable objects such as bedding, boxes, clothing, and furniture. Besides residences, bed bugs are known to inhabit a variety of interior settings like offices, stores, hotels, and gyms.
Step 1: Determine the Severity of the Problem
Determine Severity
Most bed bugs are found within eight feet of a place where a human is resting. But as their population grows, so does their footprint in your home. That's why it's important to check the following areas:
Mattresses, box springs, and bedding
In curtains and behind peeling wallpaper
Under carpet
Cracks in furniture and in hardwood floors
Piles of clothing
With your flashlight and credit card, search and probe crevices to check for bed bugs. If you see these pests moving, capture them with adhesive tape. Wipe the area with soapy water to clean away any dead bed bugs, droppings, eggs, and shed skins. Also consider vacuuming the area for an even deeper cleaning.
If you have one or more rooms with substantial clutter or items strewn about, you're providing bed bugs with a haven. The simple act of reducing clutter deprives these pests of breeding areas. But if you can see bed bugs, black or brown stains that indicate droppings, or if you experience bites, you're likely dealing with an infestation.
Step 2: Build a Plan to Stop Further Infestation
Build A Plan
With their ability to hide, their tiny size, and their frequent reproduction, you may find it challenging to remove bed bugs from your home. Making matters worse, the egg stage of a bed bug's life is actually quite resistant to many forms of treatment. Recognize that ridding your home of these pests make take a number of steps.
Step 3: Take Action to Eliminate the Bed Bugs
Take Action
Your DIY tactics will play an important role in evicting pests. Experts suggest the following tasks to clean rooms, wipe out bed bug homes, and discourage their spread:
De-clutter rooms of your house or apartment
Buy a mattress encasement to protect your mattress and box spring
Vacuum multiple times each week as you fend off the pests
Wash and dry your clothes at the hottest setting (at least 120 degrees) to kill any bed bugs
Apply caulk to cracks and crevices seen in walls and door frames
Contact a pest control specialist if signs of infestation continue
Step 4: Check Your Results
Check Your Results
Give your efforts a full week to take effect. This should be enough time in case any eggs were missed during cleaning. If the results are not to your liking, contact a pest control specialist. The infestation may require an insecticide, which is best handled and deployed by a professional.
Bed Bugs and Humans
Remember that bed bugs are not known to carry diseases to humans. But our exposed areas of skin – the hands, neck, face, leg, and arms – are open targets to bed bugs when we sleep.
You may not even be aware of a bed bug bite since these are not known to be painful. In fact, hours or days may pass before you notice signs like swelling, bleeding, or secondary infection at the site(s) on your skin if the bites are not cleaned. This reaction is more likely in small children, the elderly, and people with weakened immune systems.
Weather and Seasonal Behavior of Bed Bugs
Higher temperatures are a bed bug's ally for a few reasons. First, heat quickens the pest's life cycle. In everything from feeding to the maturing of eggs to general movement, hotter days are a bed bug's comfort zone.
This means that your home is potentially a prime habitat for bed bugs throughout the year. Because winter temperatures are extremely uncomfortable to bed bugs – and sends them into a dormant state called diapause – they will always seek a warmer environment. The controlled climate of your home provides a setting where they can be active all year. If the clothes we wear carry these pests, then we help them reach new sites for infestation. This means that controlling and eliminating bed bugs can be done at any time on the calendar.
Removing bedbugs
Bedbugs measure just 5 millimeters across—smaller than a pencil eraser. These bugs are smart, tough, and they reproduce quickly. Bedbugs know where to hide to avoid detection, they can live for months between meals, and a healthy female can lay 500 eggs in her lifetime.
No surprise that these tiny bloodsuckers can wreak a lot of havoc in your home. If they get into bed with you, they can leave red, itchy welts all over your body.
Fortunately, you can get rid of bedbugs. Be patient as removing bedbugs often takes some time and effort. You may have to try a few different chemical and non-chemical approaches, especially if you have a large infestation.
Certain factors can make bedbugs harder to remove. You may have a tougher time ridding your home of them if you have a lot of clutter, or you travel often and bring new bedbugs home in your luggage.
If you can't rid your home on your own, you may have to call in a professional exterminator. Read on for a step-by-step guide on getting rid of bedbugs.
Step 1: Identify all infested areas
If you've got bedbugs, you want to find them early before they start to reproduce. It's much easier—and cheaper—to treat a small infestation than a big one. Yet smaller infestations can be harder to detect.
Search for bedbugs yourself, or hire a professional to do an inspection. Some inspectors use specially trained dogs to hunt down bedbugs by scent.
Bedbugs' small, narrow bodies enable them to squeeze into tiny spots—like the seams of a mattress or couch, and the folds of curtains.
Also look for them in places like these:
near the tags of the mattress and box spring
in cracks in the bed frame and headboard
in baseboards
between couch cushions
in furniture joints
inside electrical outlets
under loose wallpaper
underneath paintings and posters on the walls
in the seam where the wallpaper and ceiling meet
Use a flashlight and magnifying glass to go over all of these areas.
You can spot bedbugs by these signs:
live bedbugs, which are reddish and about ¼-inch long
dark spots about the size of a period—these are bedbug droppings
reddish stains on your mattress from bugs that have been crushed
small, pale yellow eggs, egg shells, and yellowish skins that young bedbugs shed
Once you find a bedbug, put it in a sealed jar along with 1 teaspoon of rubbing alcohol. Other types of bugs can look a lot like bedbugs. If you're not sure what type of bug you've found, bring it to an exterminator or entomologist to identify.
Step 2: Contain the infestation
Once you know you have bedbugs, you need to keep them contained so you can get rid of them. A quick and easy way to trap bedbugs is with your vacuum. Run the vacuum over any possible hiding places.
This includes your:
bed
dresser
carpets
electronics (like TVs)
Seal up the vacuumed contents into a plastic bag and throw it away. Then thoroughly clean out the vacuum.
Seal up all your linens and affected clothes in plastic bags until you can wash them. Then put them on the highest possible temperature setting in the washer and dryer. If an item can't be washed, put it in the dryer for 30 minutes at the highest heat setting.
Anything that can't be treated in the washer and dryer, place in a plastic bag. Leave it there for a few months, if possible, to make sure all the bugs die. If you can't clean furniture, throw it away. Tear it up first and spray paint the words "bedbugs" on it so no one else tries to take it home.
Step 3: Prep for bedbug treatment
Before you start treating your home, do a little prep work to maximize your odds of success. Make sure all your linens, carpets, drapes, clothing, and other hiding places have been cleaned or thrown out (see Step 2).
Next, get rid of bedbug hiding places. Pick up books, magazines, clothes, and anything else that's lying on your floor and under your bed. Throw out whatever you can. Don't move items from an infested room to a clean one—you could spread the bugs.
Seal up any open areas. Glue down loose wallpaper. Caulk cracks in furniture and around baseboards. Tape up open electrical outlets. Finally, move your bed at least 6 inches away from the wall so bedbugs can't climb on.
Step 4: Kill the bedbugs
Home cleaning methods
You can first try to remove bedbugs without chemicals. These bugs are pretty easy to kill with high heat, 115°F (46°C), or intense cold , 32°F(less than 0°C
Here are a few ways to treat bedbugs using these methods:
Wash bedding and clothes in hot water for 30 minutes. Then put them in a dryer on the highest heat setting for 30 minutes.
Use a steamer on mattresses, couches, and other places where bedbugs hide.
Pack up infested items in black bags and leave them outside on a hot day (95 degrees) or in a closed car. In cooler temperatures, it can take two to five months to kill sealed-up bugs.
Put bags containing bedbugs in the freezer at 0°F (-17°C). Use a thermometer to check the temperature. Leave them in there for at least four days.
Once you've cleaned all visible bedbugs, make the area inhospitable for their friends. Place bedbug-proof covers over your mattress and box spring. Zip these covers up all the way. Bugs that are trapped inside will die, and new bugs won't be able to get in.
If these methods don't wipe out all the bugs, you may need to try an insecticide.
Using "Isolation" to Thwart Bed Bugs
In addition to insecticides, PMPs have various non-chemical techniques available to them to control bed bugs. Vacuuming, trapping, heat, cold and steam are important components, especially in situations where bed bugs are showing signs of resistance to insecticides.
There's one non-chemical tool, isolation, that you may be using or recommending without even realizing it. If you can isolate or separate people from the bed bugs in their homes, you will naturally reduce bed bug bites and reduce bed bug anxiety.
Isolating the bed from bed bugs is especially important in infested apartments or residential sites where infestations remain uncontrolled (for various reasons) and people must live with bed bugs for the time being. Bed isolation can provide a measure of relief.
COOPERATION IS KEY. Isolation involves special manipulation of the bed or other sleeping area so that bed bugs can't reach sleeping people. Isolation methods require the cooperation of your customer. Although you may show the customer initially how to turn their bed into an isolation "island," they will then be largely responsible for maintaining the system. It's a simple process, but it's a multi-step process. For that reason, it's very important that you make sure your customer understands the concept of bed isolation.
Explain to your customer how bed bugs get to their hosts to feed. Some bed bugs are hiding right in the bed, but more are hiding in cracks and crevices nearby, coming out at night and making their way onto the bed. People make it easy for them to do so by providing "bridges" that connect from the floor or wall or furniture directly to the bed. Climbing right up the bed leg is probably the most common way for bed bugs to reach their host. They also get onto beds by moving from draperies that touch, or up bed skirts that reach the floor, or by climbing up from boxes and other items stored under the bed.
The goal is to make the bed an island that does not touch anything and nothing touches it. The bed should not make any contact with the walls or floor other than through the bed's legs, which are sitting in the middle of their own islands, moat-style interceptor traps. Anything that touches the floor and thus creates a bridge, such as a bed skirt or bedspread, will provide a travel route for bed bugs and destroy the protection.
Proper bed isolation can offer almost immediate relief to residents at the beginning of a bed bug control program. In some accounts, you may be constrained from providing the level of bed bug control necessary to completely eliminate an infestation, but you can still offer the possibility of a good night's sleep to bed bug-weary customers.
Bed Bug Control – How to Get Rid of Bed Bugs
Reduce Clutter:
Remove all personal items (stuffed animals, soft toys, blankets, electronics, etc) and anything that does not stay in the room permanently. Caution: Be mindful that items from the infested area can transfer bed bugs to other areas.
Launder Infested Garments and Linens:
Infested garments and bed linen cannot be treated with insecticide. They need to be laundered in hot water (120 degrees fahrenheit minimum). If washing is not available, heating the garments or bed linens for several minutes in a clothes dryer may work.
Dismantle Bed Frames:
Dismantling bed frames in infested areas typically exposes bed bug hiding sites. Having access to these areas during cleaning is important. Stand up the box spring and shine a flashlight through the gauze fabric and look for bed bugs. If the fabric is torn (possible hiding place), remove fabric to prepare for spraying. Once covered with these encasements, bed bugs can not enter or exit. There is no need to treat the mattress or box spring when using these encasements. Keep them on for a year.
Remove Dresser Drawers:
Remove drawers from desks and dressers since bed bugs like to hide in these areas. Turn furniture over to inspect and clean all hiding spots. All furniture should be pulled away from the walls.
Clean the Area
Scrub infested surfaces with a stiff brush to dislodge eggs. Vacuum the room extensively. Use a vacuum hose attachment to thoroughly vacuum cracks and crevices on furniture and along baseboards on the walls. Vacuum along baseboards, furniture, bed stands, rails, headboards, foot boards, bed seams, tufts, buttons, edges of the bedding, as well as the edges of the carpets (particularly along the tack strips). A good vacuum cleaning job may remove particles from cracks and crevices to encourage greater insecticide penetration. Bed bugs cling tightly to surfaces, so it is best to vacuum by scraping the end of the vacuum attachment over the infested areas to pull out the bed bugs. Caution: It is not good to use a bristle attachment, because you may transfer bed bugs to other areas since they cling to the brush. Dispose of vacuum cleaner bags after you are finished in an outdoor trashcan.
Caulk and Seal
Caulk and seal all holes where pipes and wires penetrate walls and floor, and fill cracks around baseboards and molding to further reduce harboring areas.
Bed Bug Appearance
Tip: The common Bed Bug can be seen with the naked eye. Since bed bugs are difficult to see, use a magnifying glass.
Adult bed bugs are brown to reddish-brown, oval-shaped, flattened, and about 1/4 to 5/8 inch long. Note: Their flat shape enables them to readily hide in most cracks and crevices.
Tip: Eggs are not placed on the host's body (the person sleeping in the bed), but the eggs are found on surfaces near where the host sleeps.
Bed Bug Inspection Tips:
Look in any place that offers darkness, isolation and protection to the bed bug.
Inspect adjoining rooms where an infestation is found. Even when the bed bugs themselves cannot be found, their hiding places can be located by looking for the spots of fecal material they often leave.
Bed Bug Inspection Check List
Inspect these Areas:
The Mattress and Box Spring
Bed Frame and Head / Foot Boards
Other Furniture
Walls and Carpet
Electronics and Appliances
The Mattress and Box Spring
Check the mattress throughly, paying close attention to seams and tufts along the edges. Flip the mattress over and inspect the bottom carefully as well. Pay particular attention to any rips in the fabric. View the fabric on the bottom of the box spring and shine a flash light to verify that bed bugs have not penetrated the interior of the box spring.
Bed Frame and Head and Foot Boards
Remove the mattress and box frame from the bed frame and shine a flash light all along every potential hiding place on the bed frame. Remember bed bugs can slip into an crack a business card can fit into.
Other Furniture: Desks, Chairs, Dressers, etc
Take out all drawers and cushions from surrounding furniture. Check all seams and crevices carefully with a flashlight. Take your time and inspect thoroughly. Bed Bugs are commonly found in these areas in an infested room.