LOW RATES ON OFFICE MOVERS
Managing a successful business is tough but trying to manage a business while in the middle of a full office relocation might seem impossible. Not only are you trying to keep operations going, but you're having to do that in a constant state of flux with boxes everywhere and a flurry of packing activity.
This is a time when a professional mover is worth their weight in gold. Some may view hiring a professional moving company as an unnecessary expense. However, the time and resources you'll save by not losing business manpower, makes up for the menial cost. A moving crew can get your office moved quickly and efficiently, so there's less impact to your bottom line!
TYPICAL COMMERCIAL RELOCATION PROCESS
At its core, moving an office looks a lot like moving a residence: sensitive documents must be handled with care and heavy furniture transported to the new location. The primary difference between these types of moves is working around your schedule to minimize the impact on your business.
From there, the agent will discuss storage options: are you moving all at once or spacing it out over the course of a few days or weeks? Will you need long-term storage for any reason? If so, the agent will most likely set you up with a good deal from a trusted provider. Finally, the moving coordinator will work with you to make sure everything is done according to plan. You may have as many people on-site to help as you would like, but the moving team – under instruction from the team leader – will take care of all the work
MOVING SERVICES AVAILABLE FOR YOUR OFFICE
Many people are unaware of all the things that moving companies can do, especially when it comes to office relocations. Not only are professional movers responsible for transporting items from point-to-point, but they can also provide a myriad of other services  as well.
Packing and Unpacking Services – Depending on the size of your staff and how much equipment you'll need to move, packing up an entire business can be time-consuming and possibly dangerous. Moreover, a poorly packed truck can lead to thousands of dollars' worth of damage. Professional movers are trained to pack and stack things the right way, which minimizes the risk to you.
Trash Pick-Up – If there's excess waste at your company, a professional mover may be able to help you clean out the debris before and after your move.
Furniture Assembly and Disassembly – Larger items like desks or cubicles can be cumbersome to take apart. For an extra fee, many movers will break those down into manageable pieces, then reassemble them at the new location.
Packing Supplies – In case you want to take care of most of the packing yourself, moving companies can also help you find the right amount and type of boxes to get, saving you the hassle of guessing and possibly wasting money.

Office Moving Checklist: How to Plan the Perfect Office Move
Moving to a new office can be a serious task for a business – an office relocation job that often proves to be more challenging than anyone ever expected. In the majority of cases, the worst thing about moving a business to a new location is not the actual office moving costs but rather the lost time during the corporate move.
Ultimately, every day that an office is in transit will mean lost money for the company. And if all those days should turn into too many days or even weeks due to ineffective planning and bad time management, then the business could lose quite a lot of money in the meantime – and that's an office moving scenario that nobody wants to happen.
Without a doubt, the only way to guarantee a successful office relocation is to follow an Office Moving Checklist – a super-detailed office move plan that will make sure the tough job of moving a business to a new location gets completed as quickly and effectively as possible
3+ months before the move
The more time you have for planning an office move, the better your chances of managing a successful office relocation will be. Ideally, you'll have around 6 months to get ready for Moving day but you should be able to make it work in half that time (3 months) as long as you rely on your business moving checklist.
MAKE SURE you have found a new location for the business – one that has a number of advantages over the current place in terms of rent, location, type of building, square footage, and so on.
REVIEW again the conditions of the commercial property lease. Is there any danger of losing the deposit fee if you break the lease too early?
GIVE the landlord or the property manager an official notice that you plan to move the business office to another location.
SCHEDULE a move-out date after you reach a mutually beneficial agreement with the landlord or property manager about how much more time you'll have in the current business office. Do all in your power to secure least 3 months to prepare for an office move in the best possible way.
PUT TOGETHER a team of trustworthy employees that will help you manage the office move project.
DISCUSS at length the upcoming commercial move with the members of the office move planning team and ASSIGN individual tasks to each person so that they know exactly what is expected of them.
SCHEDULE periodic meetings with the office move project team to coordinate your actions and monitor the overall progress. Planning a business move requires an impeccable organization and a distinctive effort from each company employee.
GET office moving cost estimates from at least 3 top-rated office movers in your area. GET those written estimates in order to compare their rates effectively and pick the winning offer that will fit your company budget and satisfy your relocation needs.
BOOK the services of the best office moving companies in your area – the best ones in terms of price and quality of service.
SET a budget for your office move as soon as you know how much your office movers will charge you for the job. A working moving budget can keep you from overspending on a business office move that's likely to be expensive as it is.
CONSIDER purchasing extra insurance for the valuable office equipment and machinery. Insurance coverage is especially important when you're moving a single piece or a few pieces of super-expensive machinery that your entire business depends on.
What would you look for in a good office moving company?
Everyone has to move sometime or another. But seasoned moving customers are well aware that not all moves run smoothly. Just as each moving company will differ in their services and prices, it's extremely important to know what to expect on moving day
So you'll want to do your homework and research as many vendors as possible. When researching, keep an eye open for scams and rogue movers, as they will never have your best interest in mind.
Any estimator that does a quick walk-through of the building will not catch all of the details when giving you the quote. When calculating, they should ask questions about what exactly you will be bringing with you to your new location.
Just be prepared to answer the questions regarding which items will not be going on the truck and will need to be decommissioned. You might be surprised to find that a number of companies operate under various names to avoid being assessed by the Better Business Bureau and other online review platforms.
Make sure the company has an address that is local and information about their licensing and insurance. Check for any other name the company does business as in addition to their state and federal license numbers.
MOVE MANAGEMENT
Change is constant, and never is this adage truer than for facility managers facing down the realities of the modern office environment. Whether a company is embarking on a completely new build, growing rapidly, merging with another organization or simply shuffling internal seating arrangements, move management has become a core function of the facilities management team.
Even a small move can consist of many connected parts that need to be synchronized, and it's the job of FMs to make sure that the day-to-day operations of a company aren't too heavily impacted in the process. This demand for efficiency places a heavy burden on facilities management teams: a successful move requires the careful consideration of countless factors. And if all the stakeholders aren't properly looped in and all the variables aren't considered, a move can quickly end up costing more and taking much longer than anticipated.
So how do you make sure that an office move takes place as expected? Managing a move successfully demands strategic planning, effective communication, collaboration, a workable strategy for moving teams and proactive steps that protect against disrupting business operations for a significant amount of time. If this sounds like a tall order, it is: but with the right preparation and tools, a streamlined office move is within your reach.
What is Move Management?
The definition of move management is simple—it involves relocating staff members and support materials from one space to another—but the planning and responsibilities that come with it can be complex. The process traditionally sees an organization leave their current premises for a new office, although intra-office and departmental moves are also becoming the norm.
Another important aspect of move management that is often overlooked is the ad hoc movement of employees within an office, often referred to by facilities management teams as churn. In some offices, moves need to be authorized by managers, but in others, employees are allowed to decide for themselves if they want to move to another desk. Regardless of who needs to sign off on a request, though, keeping close track of these moves is important. FM teams need to facilitate and schedule changes, and also keep HR, IT and other departments fully informed of who sits where.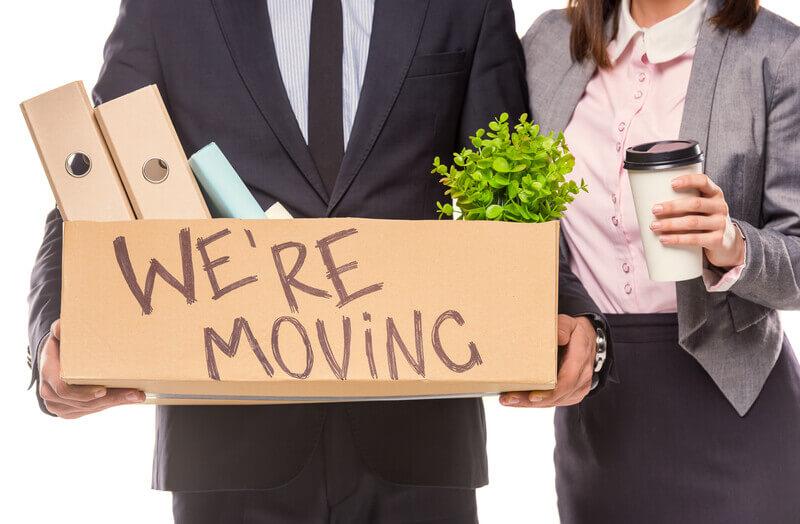 How to Prepare for Office Move?
Getting ready to relocate an office or business can be much stressful than relocating a home. The need to keep all things in your head while moving an office could be so tiring. To have hitch-free office relocation, you need to plan and prepare appropriately. Continue your business in a new place comes with lots of excitement. Relocating to a new place that is more spacious than the previous office space means that your business is growing and your employees will also be expecting to work in a more upgraded office.
Making sure the business continues without any obstacle is very important even though moving is going on. To have a hitch-free office move, hire a professional moving company that has experience in commercial relocation. Regardless of the distance of your relocation, the business owner must prepare before the moving date. Draft a moving checklist to avoid trouble during the entire office relocation will go a long way. This post will go through all you need to know about office move. Let's start by highlight some of what should be included in your office checklist.
Office Moving Checklist
Create a moving checklist for your upcoming office relocation means that you have something to fall back on when necessary. Among the things that should be included in your moving checklist include office inventory, casting aside non-essentials, setting up of relocation committee, arrangement with interior designers, and contacting moving companies,
Develop a Timeline
The important dates on the business calendar should be the basis on which the relocation is planned. Take a note of the events on the moving timeline. The expiry date of your current lease should also be considered. The manager in charge of the property should be aware of the upcoming moving date. Inform the entire employees and suppliers about the scheduled moving date.
Assign Tasks and Set up a Relocation Committee – Optional
Involving your staff in the move at the early stage is essential. Relocation committee will help make the office transition easy on the rest of the employees, as well as help you in planning and organizing the event. Ensure the committee oversees the tasks and assignments as assigned to each member, as there are more than enough tasks to do as the relocation progresses. Ensure you assign some to your employees and add each task to the list.