Top Tips to find the perfect Kitchen Faucets for your Home
Two-Handle Kitchen Faucets
And for those looking for the ultimate in terms of a classic kitchen faucet, a two-handle design is likely the best choice. Whilst unable to match up to its counterparts for speed and efficiency, the reliability and attractive design of these faucet types provides balance against those negatives. Again, two-handle kitchen faucets aren't restricted to areas with traditional decor; they are increasingly available in an array of attractive modern designs with many different handle types that are both stylish and simple to use.
Single-Handle Kitchen Faucets
If you're looking to maximize space in your kitchen sink area, and thus limit the amount of kitchen faucet parts present, then a single-handle faucet could well be your preferred option – their design allows for both water temperature and volume to be controlled by a single lever. Representing one of the first widespread modern faucet advancements, these kind of kitchen faucets offer simple functionality and minimalistic, stylish aesthetics. They're also widely available in an impressive variety of contemporary and traditional designs.
Pull-Down & Pull-Out Spray Kitchen Faucets
Perhaps the most convenient options for the preparation of meals and for cleaning up after the fact, pull-down and pull-out kitchen faucets incorporate a separate spray feature which distinguishes them from traditional faucets. Between the two types, pull-down faucets tend to offer a higher spout and greater flexibility in terms of flow; spray, stream and a flow pause are delivered by different pull-down faucets, with controls in-built into the spray attachments for ease of use. By contrast, one of the biggest criticisms of pull-downs is their more complicated profile in comparison with a standard faucet – they need to accommodate a flexible hose and hold the spray head securely in place when not in use. That said, manufacturers have more recently accounted for these factors, with pull-down faucets now usually designed to avoid the issue of slipping shower heads.
Touch Control Kitchen Faucets
The very most contemporary type of kitchen faucet, those incorporating touch technology, are ever growing in popularity. These styles of faucets offer easy usability, operational via a simple touch to switch them on and off, with most designs including an LED light to indicate their status. At the forefront of innovation, you can find a wall mount kitchen faucet with touch technology as well as standard freestanding designs. And whilst both kinds are currently available at relatively premium prices, they can prove a good long-term investment, given that they greatly conserve water by activating flow only when absolutely necessary. Touch control kitchen faucets are typically simple to install, and as they usually work on battery power, can be added without the need for an electrician.
Selecting a Kitchen Faucet with the right functionality
When looking at how to replace a kitchen faucet, or at simply investing in a brand new component, many people will initially base their search purely on looks. But whilst appearance is undoubtedly an important element, what good is your faucet if it doesn't have the correct functionality to operate to full effect in your kitchen? First and foremost then, you should think about the specific features and functions of your prospective kitchen faucets to ensure they match up with your specific preferences and requirements.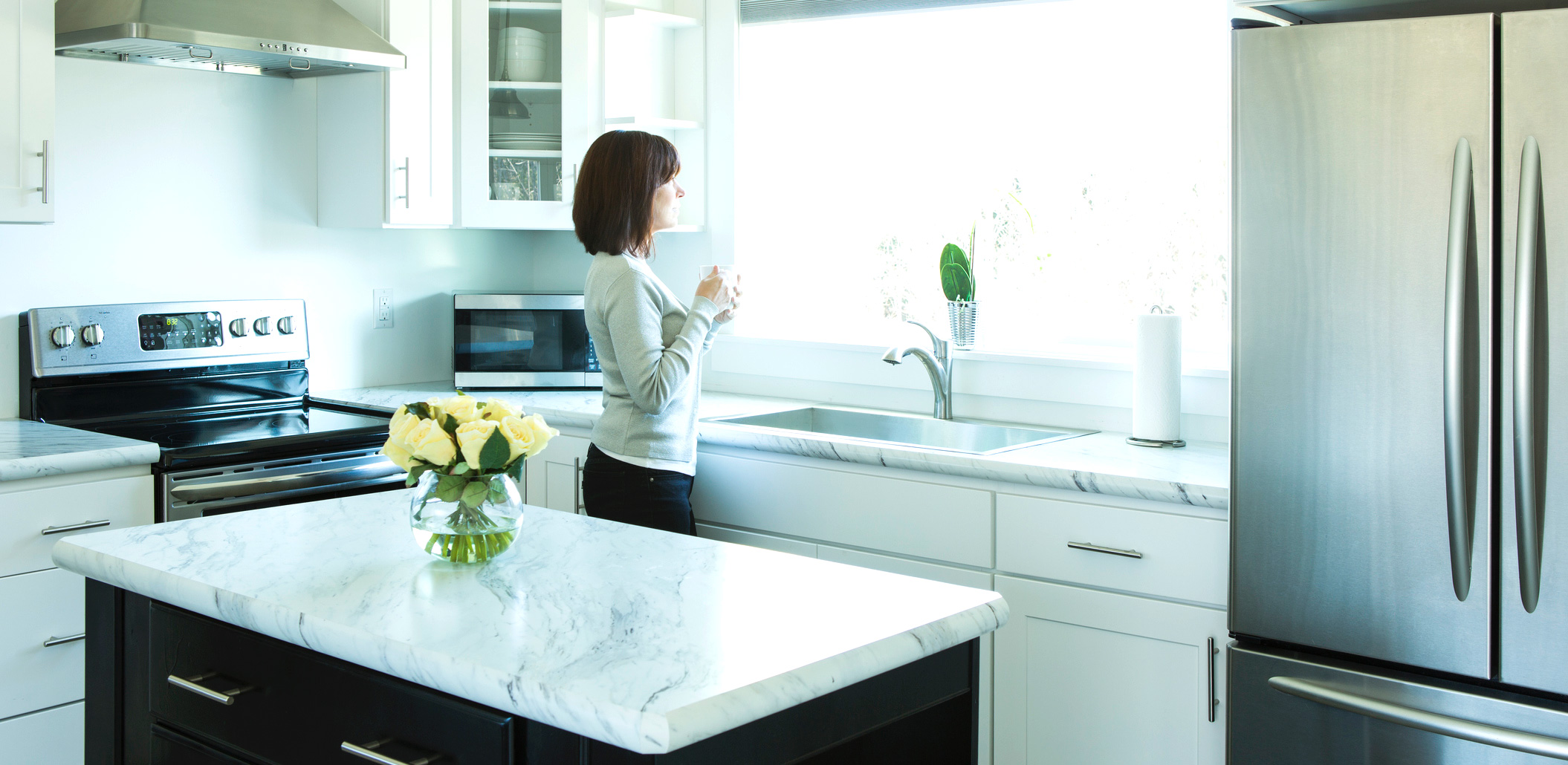 How to Choose the Right Faucet for your Kitchen
Designing and remodeling kitchens can be one of the most rewarding and trying home projects you'll take on. From paint colors to countertops and cabinetry, there are choices to be made at every turn. Finding the right faucet for your kitchen is no different, and with so many styles to choose from, we've created an easy guide to help you narrow down the best faucet for your design. Read on for tips to find the best faucet for your style, budget, and performance needs.
Installation Types: 1-4 Faucet-Hole Installs
Deck-Mounted Faucets (faucets mounted on the sink) are a popular choice for those who love options and lower costs. These mounts are generally easier to install and offer more features and styles. Many sinks come with 1-4 pre-drilled mounting holes, and most deck-mounted faucets come with decorative deck plates (escutcheon plates) that will cover any hole you don't need, allowing you the option for double-handled or single-handled sinks with or without built-in soap dispensers and sprayers. Before you begin choosing the right faucet, it's important to check the plumbing on your current sink and count the pre-drilled holes it has.
Single-Hole Installation: For those who appreciate clean lines and spacious countertops, single-hole installations offer the convenience of a faucet that takes up the least amount of space. These fixtures are an all-in-one faucet that come with a single handle for water adjustment and the option of an attached, pull-out sprayer.
Three-Hole Installation: Three-hole faucet mounts come with two primary options: a single-handled faucet with accompanying side sprayer, or a two-handled faucet. Both of these options make a more prominent design statement with a larger fixture to catch the eye. These faucet styles have maintained their popularity over the decades, and when keeping costs in check, many homeowners choose to upgrade their faucet with a fixture that uses the already-existing holes.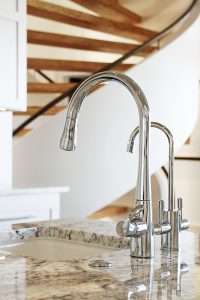 How to Choose the Perfect Kitchen Faucet for Your Kitchen?
Buying Considerations
Going head first into buying a kitchen faucet can be a costly venture for the unprepared. Beyond the pitfalls that could lead to you calling in a plumber, is getting it installed only to see it's not really what you want. The kitchen faucet decision should be treated with care since you're dropping so much on one item. Every kitchen has its own little theme so tailoring your wants and needs to a specific type is vital in the search, as what your neighbor has may be completely different than what you need. Below are some of the main considerations when looking for a kitchen faucet that you can use efficiently. After reading the 5 sections you should have a better overall idea of what it is that would work best in your kitchen, and you may even get some ideas for some of your friends. Don't be afraid to spread the word or even do some Christmas shopping! There is always someone that could use a great kitchen faucet.
How to Install Faucet?
Install FaucetTake a good look at the area that you will be installing your new kitchen faucet into. Is there a faucet already there that needs to be replaced? Is this a completely new build that doesn't have the hoses in place? And do you have a specific theme?
What Type of Sink Do You Have?
This may come as a surprise to some people, but there is a variety of kitchen sink types other than stainless steel. Stainless steel makes up the bulk of the industry and is clearly the leader. It is installed in more homes than all the other sink types combined, a statistic that won't be changing anytime soon.
What Design Does Your Kitchen Sink Suit?
The design of a kitchen faucet will come into play when deciding if you are comfortable with the two lever or single lever system. As a reference, the two lever system is considered to be dying out, as the advantages of having it have been trimmed down to simply being able to use if one of the handles go out.
What Styles Should Prefer?
This is one of a more pleasing parts of choosing a kitchen faucet when it becomes all about matching it with your décor. Starting with modern, this is the style that has been most associated with the kitchen faucets that use motion detection. In a kitchen that ha all of the bells and whistles, why skip the kitchen faucet? The transitional style has a blend of both modern and traditional aesthetics, making up for the lack of technology with some of the most standout finishes available. Transitional styles usually have the most prominent finishes. Traditional isn't as bland as it sounds and gets its inspirations from a lot of European kitchens in style.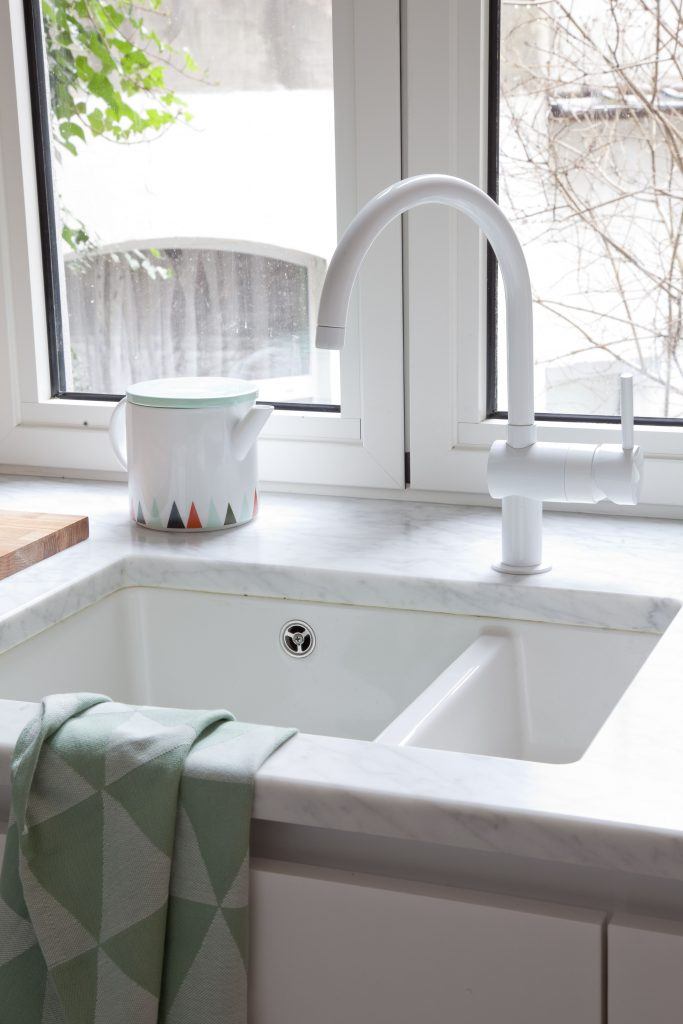 How to Pick a New Kitchen Faucet
Mounting Styles
Sink-mounted faucets. There are many different kitchen faucet and sink designs, but they are not always compatible. If you are working with an existing sink, check how many mounting holes it has. New faucets come in one-, two-, three- or four-hole varieties.
Deck-mounted faucets. With these the faucet mounts directly to the countertop and not the sink. If you are installing an undermount sink, you have the option of mounting the faucet directly on the countertop. When installing a deck-mounted faucet, make sure to allow more than a finger's width behind the faucet for cleaning.
Handle Options
Single-handled faucets. A single-handled faucet rotates directionally, usually providing the ability to regulate flow with an up-and-down motion and temperature with a side-to-side motion.
Double-handled faucets. These usually require a minimum of three holes for installation. The wide variety of handle options makes this kitchen faucet design more customizable.
Materials and Finishes
Chrome, nickel, brushed nickel, polished brass, oil-rubbed bronze, white, black and stainless steel are some of the standard finishes and colors. Keep in mind that finishes from different manufacturers may not be exactly the same. It is a good idea if you are planning to buy a faucet to purchase any accessories such as a hand spray or soap dispenser from the same collection to ensure a good match.
HOW TO BUY A KITCHEN FAUCET
To find the perfect kitchen faucet, tap into the details
Though their most practical application is to provide hot and cold water, kitchen faucets play a large role in a kitchen's design. There are so many to choose from. The styles and costs vary wildly. Simply put, one faucet does not fit all!
Though investing in a kitchen faucet may seem overwhelming. The right information makes it much easier. Here are some practical how-tos for you to consider while buying a new kitchen faucet.
What materials are kitchen faucets made of?
Typically faucets are made of products that avoid corrosion. Brass and stainless steel are most common, but less expensive models are also made of a zinc alloy. Faucet finishes these days are unlikely to flake or tarnish and commonly come in brass, nickel, pewter, gold. The sky is really the limit though. Titanium and epoxy coatings will maintain the finish even longer.
Which faucet material is the most robust?
Brass is by far the best material to invest in. Ideally, both the body and the controls of the faucet should be made of brass.
Which faucet finish is the easiest to keep clean?
Brass, nickel and pewter most readily hide fingerprints and smudges. Chrome is the most difficult to keep visibly clean.